IHSS Fact Check: The moment the non-provider parent walks into the home, the provider parent can no longer be paid.
When the non-provider parent comes home, must the provider parent stop getting paid to provide IHSS services to their child (the recipient)? Join advocate, Larry Rosen as he investigates into California IHSS regulations to answer this question that is frequently brought up by the IHSS community.
Share Via:
Video Notes:
Video Transcript
Larry Rosen: There used to be another old wives tale that the moment the 2nd parent walked in the home that the 1st parent could not be paid to be an IHSS provider. That is just not true.
IHSS Fact Check Result: The provider can continue to provide IHSS services to the child when the non-provider parent is present in the home.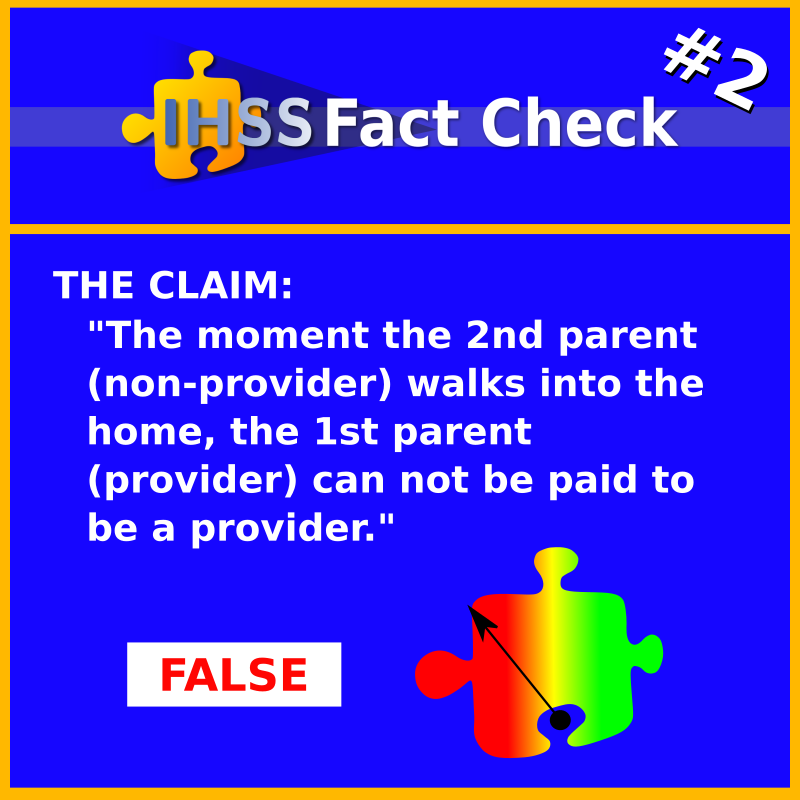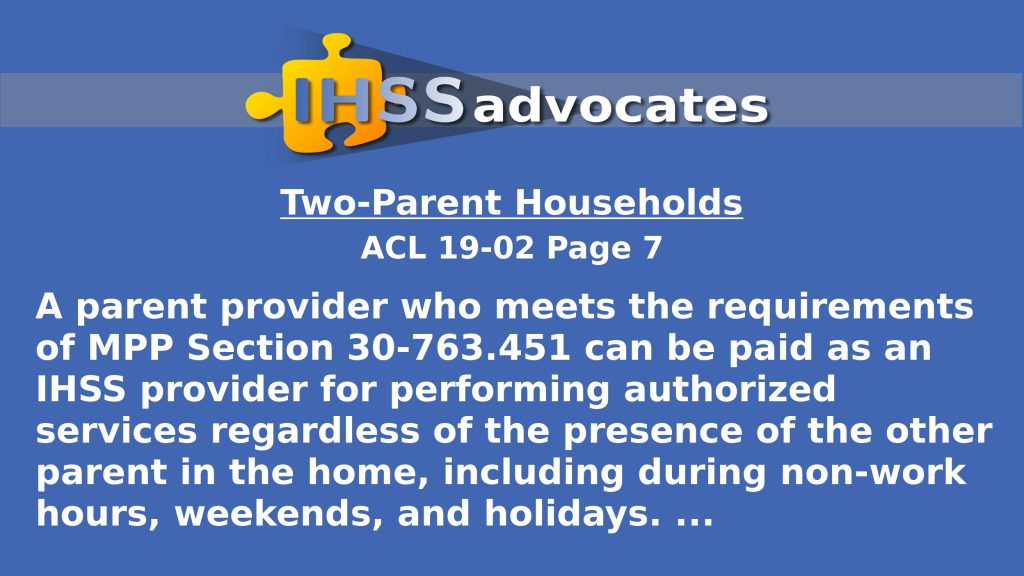 Video Slide (Above): Two Parent Households – ACL 19-02 Page 7 states: "A parent provider who meets the requirements of MPP Section 30-763.451 can be paid as an IHSS provider for performing authorized services regardless of the presence of the other parent in the home, including during non-work hours, weekends, and holidays."
Larry Rosen: What this means is that if the non-provider parent has already been determined to be unavailable perhaps because they are employed during the time that a service is provide, or they are going to school, or because they are physically or mentally unable. What this is stating here is that if in fact that unavailability occurs episodically, it doesn't happen 24 hours a day seven days a week, maybe they work Monday trough Friday during a certain schedule, or maybe they go to school certain hours of the day and it's full time school, or whether they are searching for employment during certain hours, and they meet the requirements of MPP 30-763.451 . What this is saying, that the IHSS can still be provided to the parent provider (the IHSS paid provider), for the minor child even if that parent is home on weekends, home on the holidays, home in the evening after work.
Links to IHSS Regulations Documents Used
Click the button below to get a free advocate evaluation of your child's IHSS Protective Supervision case.
Or call us at (949)-449-2089 for a free consultation.
Click here to see more IHSS videos by IHSSadvocates
If you need any assistance, you are welcome to join our support group at: IHSS Advocacy Group