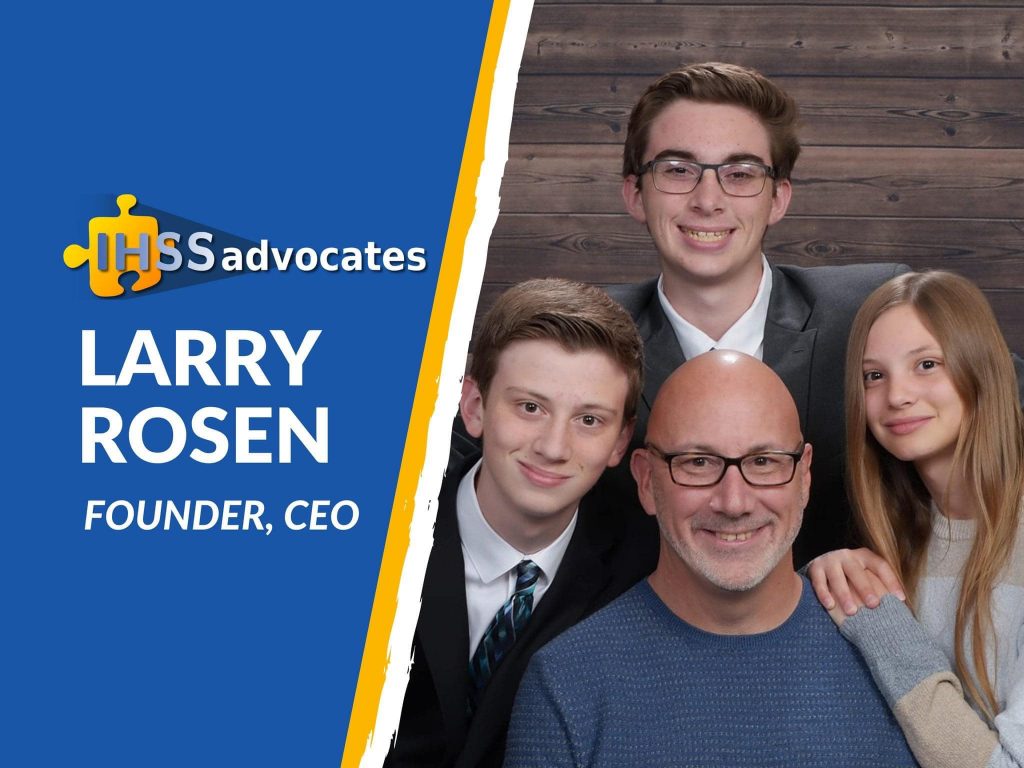 ---
Larry Rosen
Title: CEO
Education: MBA from the University of Redlands (2001)
Email Address: larry@ihssadvocates.com
Facebook: Larry Rosen Facebook Page
Responsibilities: Chief Executive Officer and visionary behind IHSSadvocates
Background: 22 years of managerial experience with successful top-notch, high profile restaurant companies like Marie Callenders, Mimis Cafe, Pat and Oscar's restaurant, Island's restaurants and Rainforest Cafe. 8 years as an adjunct professor, teaching hospitality management courses at Long Beach City College.
Additional Info: Mr. Rosen also has a personal stake in this venture. He too was unexpectedly thrown into the tumultuous world of Autism. Non-verbal and showing the classical signs of Autism, his son, Benjamin, was diagnosed with Autism just before the age of two. As such, many of those hospitality "best practices" that he learned were not obtained through his profession but from first-hand experience gained through raising a special needs child. Today, his son is an adult, just graduated high school and is responding very well to his intervention plan.
Personal Story: My name is Larry Rosen and I, too, was unexpectedly thrown into the tumultuous world of the developmentally disabled. Non verbal and showing the classical signs of Autism, my son, Benjamin, was diagnosed with Autism just before the age of two. My Regional Center offered my son wonderful services including occupational therapy, respite, speech therapy, behavior modification, and mock pre schooling. Unfortunately, the most powerful tool we received did not come with an instructional guide or a training course. The most powerful tool we received was a DDS/ Institutional Deeming waiver, issued by our Regional Center. I was told that the waiver entitled my son to Medi Cal benefits; but I was not told much more. It was not until years later that I learned that the waiver could unlock an incredible asset that a family struggling to manage the seemingly endless care of a developmentally disabled child could utilize. That asset, called protective supervision and provided through In Home Support Services can alleviate the stress of having to choose between financial hardship and caring for a developmentally disabled child. As a result of protective supervision, both Benny's mom and I share care giving responsibilities and collectively earn over $26,000 a year as Benny is now classified as non severely impaired. If Benny were classified as severely impaired then we would collectively earn over $36,000 a year.
Statistics show that only 10% of those who could be eligible for this service actually receive it. I have met scores of families who were not aware this benefit even existed. Scores more applied but were turned down for seemingly unscrupulous reasons. Tired of repeatedly encountering barriers when negotiating for services, lots of families just give up.
Protective Supervision is the most powerful resource of them all. It is worth fighting for. My mission is to provide families with children diagnosed with a developmental disability the tools to obtain protection supervision. My vision is to see the number of eligible families receiving protective supervision increase significantly. For families who do not have the time to obtain services for themselves, arrangements can be made by my team to work on your behalf.
All resources included on this web page are generic. The information has been gathered from multiple sources on the internet. We have even included a way for parents to ask specific questions about IHSS and/or share their stories. We are, after all, one community with a common purpose.
Good luck to you. I wish your family success in providing for your children and making them the best person they can possibly be.
Sincerely
Larry Rosen
P.S. My son is now an adult and a high school graduate of the class of 2022. I owe his amazing success to the hard work and dedication of his therapists, teachers, and specialists. I also give credit to his mom who effectively used the tools given to her, pushing Benny to be the best Benny he could be!