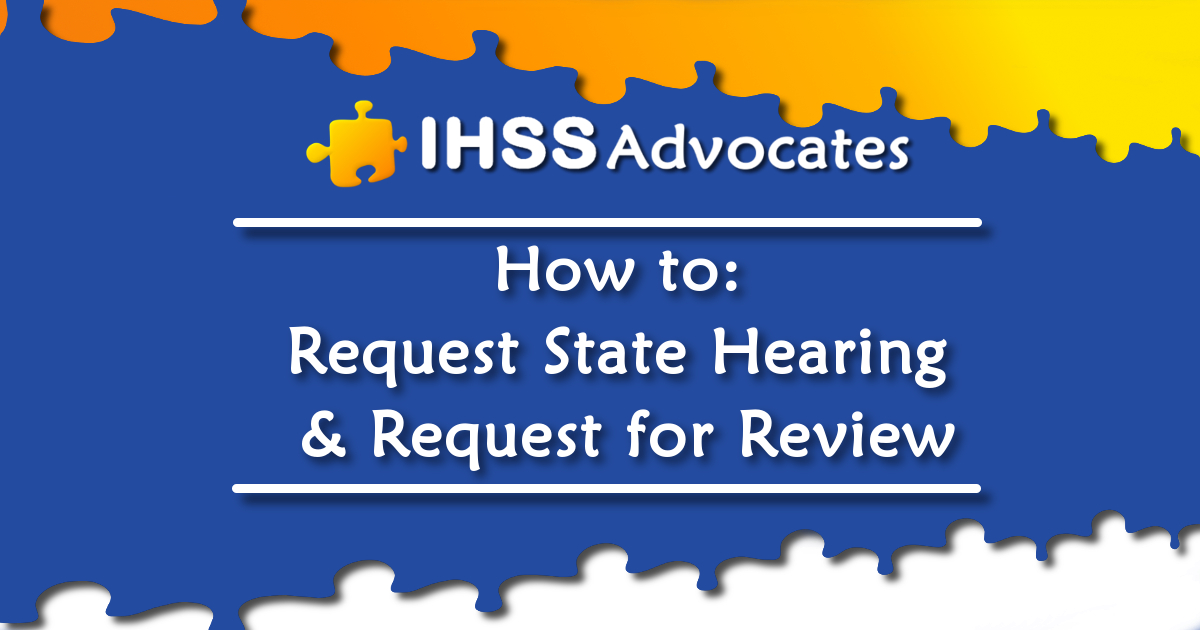 How to: Request a State Hearing & Request for Review
How to request a fair hearing
Requesting a fair hearing is pretty simple and there are several ways this can be done. All you have to do is say you want one. It is always best to ask for the hearing in writing. You should keep a copy of the request and make very clear that you want a hearing. [State & Federal Regulations:MPP § 22-004; 7 C.F.R. § 273.15]
It is always a good idea to state your reason for a hearing, but not write any long explanation or defense. For example, "I am not getting the right amount of IHSS hours" is all that is needed. You should also be sure to write the date of the request, and the case number (if known).
The following is a list of all options for requesting a fair hearing.
(Best Option) Use the back of your NOA (Notice of Action) or write your own letter
Telephone the state's toll free number: (800) 743-8525
Fax your request to: (916) 651-5210
Request the hearing online by clicking here
If need an interpreter, including sign language, the language needed should be listed in your request. This will result in the state providing a free interpreter. You have the right to have an interpreter who speaks your preferred language to explain the hearing procedures in your preferred language, and interpret for you during the hearing. [State & Federal Regulations: MPP § 22-004.211; 7 C.F.R. § 273.15(h)]. Upon request, the state will also provide disability accommodations including large print for the county's position statement and hearing decision, wheelchair accessible rooms, and so on. If you need these accommodations you should ask for them as soon as possible.
The state agency will notify you in writing at least 10 days in advance when and where the fair hearing will be. If the date and/or time does not fit into your schedule, you have the right to request to have the date changed. You can put off the hearing for 30 days for any reason. After 30 days you must show "good cause" for postponing the hearing. Reasons can be things like you need to find a representative, illness, no childcare, etc. [State & Federal Regulations: MPP § 22-053.11; 7 C.F.R. § 273.15(c)(4)]
Important: You must ask for the fair hearing within 90 days of the date of the NOA. However, you can request a hearing for up to 180 days after the date of the notice if your reason has "good cause." [Welf. & Inst. Code § 10951; MPP §§ 63-804.5, 22-009.1].
The following PDF document, State Hearing & Request for Review, contains more details and information pertaining to California state hearings not discussed above.
If you need any assistance, you are welcome to join our support group at: IHSS Advocacy Group
Click the button below to get a free advocate evaluation of your child's IHSS Protective Supervision case.
Or call us at (949)-449-2089 for a free consultation.