10th Annual TACA Family Picnic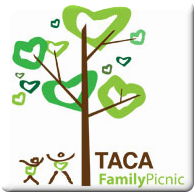 We are excited to announce that IHSS Advocates has been invited to be a sponsor at the 10th annual TACA(Talk About Curing Autism) family picnic.
The picnic will provide a fun yet secure environment for children and families affected by autism. Fun activities including Gluten-Free/Casein-Free food court, classic carnival rides, bounce houses, bubble machines, balloon artists, softball, volleyball, horseshoes, basketball, soccer, silent auction, raffles, and more!
Parents can sign up for a one, 15 minute face-to-face individual discussion with a Physician regarding your child's progress. Physician participants include Dr. Richard Frye, Dr. Dan Rossignol, Dr. Elizabeth Mumper, and Dr. Neubrander.
IHSS Advocates will also have their own booth for you to visit and get information on receiving in-home supportive services for your autistic child.
To purchase tickets and get more info, please click here to visit TACA's website.
Hope to see your there!

Date: Sunday, June 2, 2013
Time: 11:00am to 3:30pm
Location: Phoenix Club 1340 S Sanderson Ave. Anaheim, CA 92806-5629
If you need any assistance, you are welcome to join our support group at: IHSS Advocacy Group