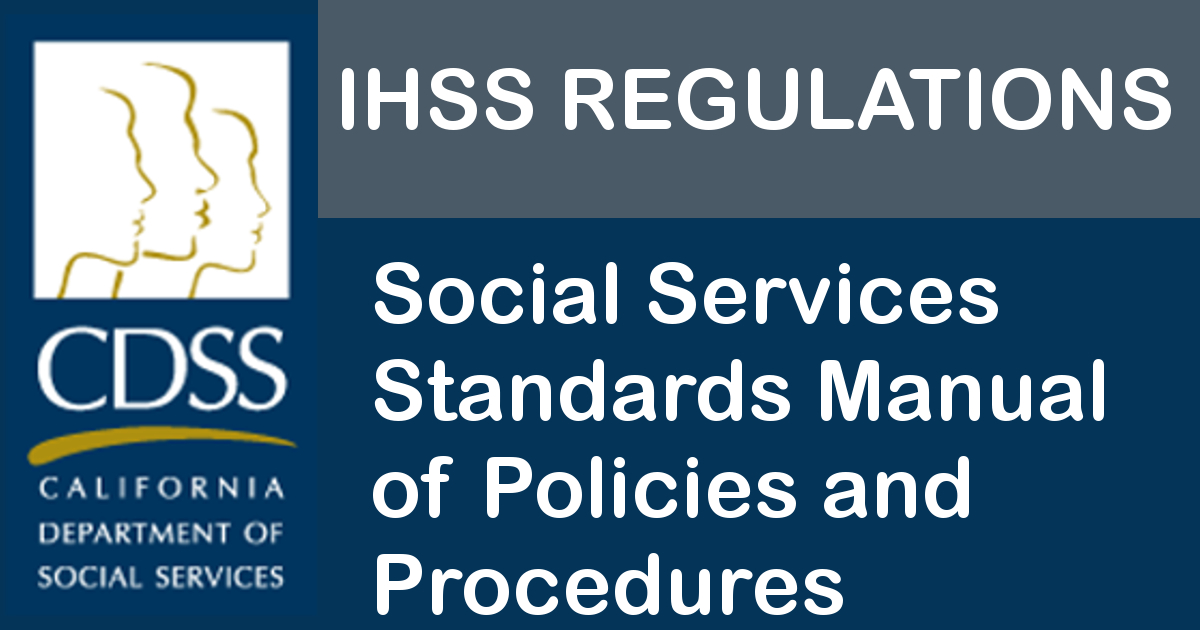 Finding IHSS regulations on CDSS website can be a cumbersome task as you navigate through their large collection of PDF files and unorganized links. Hopefully this article will help point you in the right direction.
The "Social Services Standards Manual" contains all of CDSS policies and procedures. This manual is divided up into 4 large PDF files. In regards to In-Home Supportive Services you need to look at two of the four documents. Within these two documents you will see chapter 30-700 pertains to "Service Program No. 7: In-Home Supportive Services".
To make it easy for you, the following is a direct link to both.
All four documents can be found here: Social Services Standards Manual
In this chapter you will find just about everything you need to know about the state's IHSS program.
Here is a list of IHSS regulations that are outlined in detail of chapter 30-700 in the Social Services Standards Manual.
30-700: Program Definition
30-701: Special Definitions
30-702: County Quality Assurance and Quality Improvement
30-754: Health Care Certification
30-755: Persons Served by the Non-PCSP IHSS Program
30-756: Need
30-757: Program Service Categories and Time Guidelines
30-758: Time Per Task and Frequency Guidelines
30-759: Application Process
30-760: Responsibilities
30-761: Needs Assessment Standards
30-763: Service Authorization
30-764: Individual Providers Compensation
30-765: Cost Limitations
30-766: County Plans
30-767: Service Delivery Methods
30-768: Overpayments/Underpayments
30-769: Payrolling for Individual Providers
30-770: Eligibility Standards
30-771: Linkage
30-773: Resources
30-775: Income
30-776: Provider Enrollment
30-777: Provider Employment Eligibility Verification
30-780: Personal Care Services Program (PCSP) Eligibility
30-785: In-Home Supportive Services (IHSS) Plus Waiver Program
If you need any assistance, you are welcome to join our support group at: IHSS Advocacy Group