What is a Parent Provider?
A Parent Provider is a parent that is paid to provide the in–home care services that their child was granted through the IHSS program. Once your child is awarded hours, and if you live in the same household, you could be eligible to become your child's IHSS Provider.
Requirements For Becoming a Parent Provider
There are three criteria that determine if you are eligible to be your child's IHSS live-in provider. All three of the following must be met.
You quit a full time job (40 or more hours per week) or you can't get a full time job because you must care for your disabled child.
No other suitable care provider is available (willing and able).
Your child will be at risk of out-of-home placement or inadequate care if they don't receive the awarded IHSS services.
To be technical, here are the actual laws of the above three requirements:
(MPP) 30-763.451: The parent has left full-time employment or is prevented from obtaining full-time employment because no other suitable provider is available and the inability of the parent to perform supportive services may result in inappropriate placement or inadequate care.
MPP 30-763.451(a): Full-time employment means 40 hours per week or more.
Parent Provider Requirements for Two Parent Households
The requirements above sound simple enough. But that's just for a single parent household. It gets slightly more complicated with two parent households. In addition to the three requirements above, the following also must be met for two parent households.
The non-provider parent must be working or going to school. Or the non-provider parent must have a physical or mental disability that prevents them from providing care for your child.
The parent provider can only be paid for services that are performed when the non-provider parent is at work/school, or has a disability.
Below are the actual laws about two parent households from the MPPs (Manual of Policies & Procedures):
(MPP) 30-763.453(b): The non-provider parent shall be unable to provide the services because he/she is absent because of employment or in order to secure education as specified in Section 30-763.441, or is physically or mentally unable to provide the services, as specified in Section 30-763.442.
(MPP) 30-763.453(c): If the non-provider parent is unable to provide services because he/she is absent for employment or educational purposes, payment shall be made to the provider parent only for services which are normally provided during the periods of the non-provider parent's absence as indicated above.
Parent Provider Videos
How to Become a Parent Provider
Once your child is awarded IHSS hours, you will need to complete the following four steps to become a parent provider. Each step will be discussed in more detail below.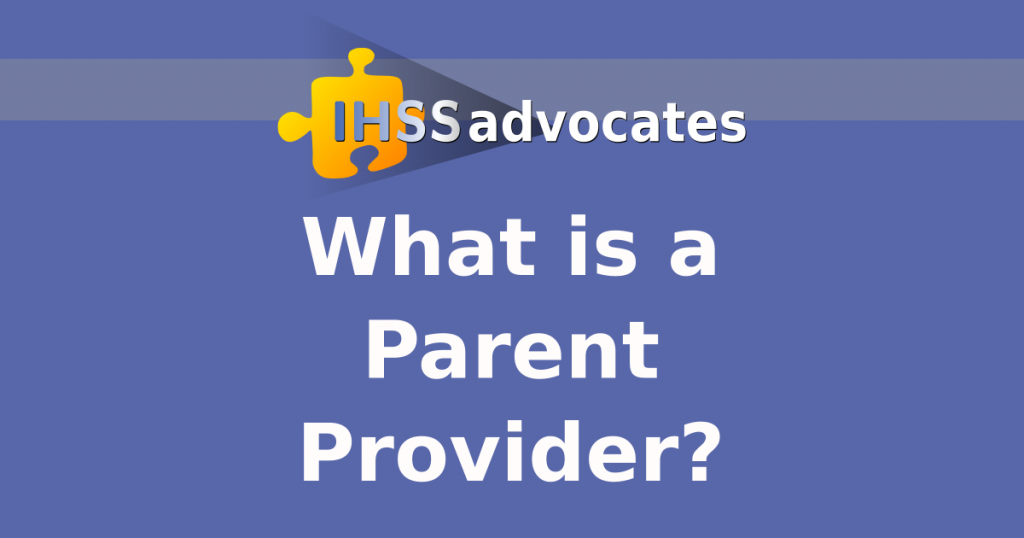 Denied Protective Supervision?
If you need help with your IHSS protective supervision denial, contact us, we may be able to help. Click here to contact an IHSS Advocate.