Air Pollution May be Linked to Autism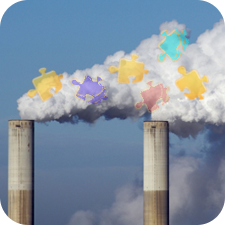 TIME.COM reports that researchers at the Harvard School of Public Health have found that early-life exposure to pollutants like diesel particulates, mercury and lead, may contribute to a higher risk of autism. It has been known that pollutants in the air affect brain development, but the first national study of in utero exposure and autism rates raises new concerns.
After collecting data from a sample of 116,430 participants since 1989, 325 had children with autism, and most of them lived in areas with higher levels of pollutants than those who didn't have children affected by the developmental disorder.
Last year, a study of over 500 kids found that those with autism were two to three times more likely than other kids to have been exposed to car exhaust, smog, and other air pollutants early on.
Expecting mothers who lived in the 20% of locations around the country with the highest pollution levels in the form of diesel particulates or mercury were two times as likely to have a child with autism compared to those who lived in the 20% of locations with the lowest levels of pollution. Women who lived in the 20% of areas with the highest levels of other pollutants like lead, manganese, methylene chloride and other metals were nearly 50% more likely to have a child with autism.
Click here to read "Prenatal exposure to pollution raises risk of autism in kids" on www.cnn.com
Click here to read "Could autism be linked to pollution?"
Click here to read "More Evidence that Prenatal Exposure to Air Pollution Ups Autism Risk"on www.autismspeaks.org
If you need any assistance, you are welcome to join our support group at: IHSS Advocacy Group