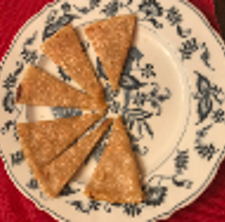 Here's a quick, easy snack or mini-meal that's both gluten-free, and delicious. It's my family's "go to" in a pinch when we are short on time, big on hunger or just craving some comfort food beyond the usual realm of mac n cheese. I hope you like it as well!
Ingredients
Gluten-free Brown Rice Tortillas from Trader Joe's
Caramelized Onion Cheddar Cheese from Trader Joe's
Butter for the pan or spray cooking oil like Pam or Trader Joe's Canola spray
Directions
Grate the desired amount of cheese onto one tortilla and top with a second tortilla.
Spray a cold skillet with cooking spray, or melt a small pat of butter in the skillet on medium heat.
Carefully place the tortilla in the pan (so the cheese doesn't spill out) and heat over medium temperature on one side until cheese begins to melt and the tortilla is slightly browned. Carefully flip it to the other side using a pancake turner. Continue cooking until cheese is melted and gooey and both sides of the tortilla are golden brown and slightly toasted.
Move to a cutting board and cut into triangles. Serve and enjoy!
Variation: You can butter the outside of the tortilla and microwave it on a microwave safe plate for about a minute or so until the cheese is melty, but the texture isn't as good, and you'll miss out on the beautiful brown coloring from toasting it on the skillet.
If you need any assistance, you are welcome to join our support group at: IHSS Advocacy Group