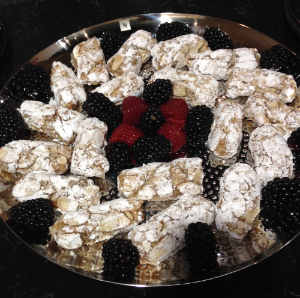 Similar in texture to a macaron, these amaretti use almond meal and are a hit with children and adults alike. While these are time-consuming to make because there's lots of chilling for 2 hours involved, they aren't difficult at all. And if you and your kids can roll a play-dough rope, then together you can roll the dough out as you make these delicious treats. Plus the orange blossom water smells amazing – like actual perfume – and adds a delicate flavor to the amaretti.Ingrediants
2 cups + 2 tbsp almond meal – available at Trader Joe's
1/2 cup + 2 tsp granulated sugar
Finely grated zest of 1 lemon
Finely grated zest of 1 small orange
1/8 tsp salt
2 1/8 oz egg whites (from 1 1/2 large eggs)
3 1/2 tsp honey
1⁄4 tsp orange blossom water – I used Cortas available from Amazon for $7.99
1/8 tsp best-quality almond extract – available at most grocery stores
1 cup toasted, unsalted sliced almonds, for rolling – I used Trader Joe's brand
3 1/2 tbsp powdered sugar
Directions
Combine the almond meal, sugar, lemon and orange zests and salt in a bowl; set aside.
In the bowl of an electric mixer fitted with the whisk attachment, beat the egg whites on medium speed until soft peaks form. At the same time, place the honey in a small saucepan over medium heat. Just before the honey comes to a boil, increase the speed of the mixer to medium-high. While the honey boils for 30 seconds, the egg whites should be forming soft peaks. Remove the honey from the heat and carefully pour into the egg whites in a continuous stream, beating the entire time. Continue beating after all the honey has been added, until the meringue is fully whipped and cooled, about 1 minute. Stop the mixer and replace the whisk attachment with the paddle attachment.
Add the almond meal mixture, orange blossom water and almond extract. Beat until it all comes together to form a soft pliable paste. Transfer to a bowl, cover with plastic wrap and refrigerate for 1 hour.
Once chilled, divide the mixture into four equal portions. Sprinkle a quarter of the sliced almonds on a clean work surface (I used a plastic cutting board) and roll the dough over the almonds with your hands like you're rolling a play-dough log.
Carefully transfer the log onto a parchment paper-lined baking sheet. I did this by tipping the cutting board over the cookie sheets and letting the dough log roll off the board and onto the cookie sheet. Repeat with remaining dough and sliced almonds. Place all the logs on the same baking sheet, cover with plastic wrap and refrigerate for at least 2 hours or up to 2 days.
Preheat the oven to 375°F. Remove the baking sheet from the fridge and cut each log into five 2 " pieces. Sift the icing sugar into a bowl and roll each piece in the icing sugar to cover. Place the pieces 3/4″ apart on a parchment paper-lined baking sheet and bake for 13 to 15 minutes, rotating the sheet halfway through, until the cookies are golden brown but still soft. Remove from the oven and set aside on the baking sheet for 10 minutes. Serve warm or allow to cool on a wire rack.
Makes about: 20 cookies. Somehow, I wound up with more which is probably because I cut them into 1 inch bites because it looked prettier.
From Sweet:Desserts from London's Ottolenghi available on Amazon $18.99 Kindle, $22.62 hardcover and $92.39 paperback.

If you need any assistance, you are welcome to join our support group at: IHSS Advocacy Group