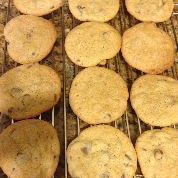 The jury is basically out to lunch when it comes to the positive effects of a gluten-free/casein-free diet and autism with the peer reviewed Journal of Autism and Developmental Disorders reporting research from double blind trials in 2015 saying its ineffective, and hundreds of other studies and anecdotal research supporting the positive effects of a gluten-free/casein-free (GFCF) diet, leaving families to deciding what works best for them, hopefully under the guidance of their physician or a dietitian. And while it may be difficult to decide if a GFCF diet is the right choice for your family, it was easy for me to decide that GF chocolate chip cookies are delicious and easy to make.
I started with Baker Josef's Blanched Almond Flour from Trader Joe's because I love pretty much anything almond and because it had the recipe on the back of the bag, so I figured the cookies would turn out right without me having to adjust the sugar levels and number of eggs/egg whites from a recipe using wheat flour.
After checking out the recipe, which seemed easy and straight-forward with no weird ingredients or steps, the second cool thing I noticed on the back of the bag was that almond flour has higher fibre and lower carbs than wheat flour. Well, that makes perfect sense! I just hadn't thought about it in those terms and I could not wait to get home and try baking these cookies.
As far as the recipe goes, it does indeed use 1 egg white more than what's usually required, and I noticed it was literally half the sugar I was expecting to use. The bag clearly stated not to consume raw dough (because of the risk of bacteria), but I tried it anyway* and it tasted great even with the reduced sugar.
I dropped the dough onto parchment covered cookie sheets as directed in a 4×4 grid, for 16 cookies per sheet on 3 sheets, totaling 48 cookies then baked at 350* for 12 minutes. The cookies came out the perfect color and shape, but I did find that leaving them on the sheet for a few minutes before transferring them to the cooling racks helped them retain their round shape.
The only points at which I veered from the recipe is when I used chocolate chunks, available at Trader Joe's instead of chocolate chips, and when I decided to add a 1/2 cup of roasted hazelnuts to half the dough.
And finally, here's the recipe if you want to try these delicious cookies yourself:
Gluten-free Casein-free Chocolate Chip Cookies with Almond Flour
1/2 cup butter, softened
1/4 cup packed brown sugar
1/4 cup sugar
1 teaspoon vanilla extract (I used Trader Joe's Bourbon Vanilla which means the vanilla beans came from Madagascar. There isn't any bourbon in it.)
1 egg + 1 egg white
2 1/2 cups Baker Josef's Blanched Almond Flour
1/2 teaspoon baking soda
1/4 teaspoon salt (I used coarse Kosher salt)
1 cup chocolate chips (I used chocolate chunks)
Preheat oven to 350*. Line cookie sheets with parchment.
Mix butter, sugars, and vanilla extract together in a large bowl. Mix in eggs until well combined.
Stir in almond flour, baking soda and salt, then mix well. Gently stir in chocolate chips.
Drop by tablespoon onto the baking sheets about 2 inches apart. Bake 12-15 minutes or until lightly browned.
Allow to cool a minute or so on the sheets, then transfer to cooling racks.
Baking times may vary. Makes approximately 30 cookies. Do not consume raw cookie dough.
So while your family may or may not decide to follow a GFCF diet, these cookies are delicious and easy to make.
*IHSSAdvocates does not suggest or endorse eating raw cookie dough at any time.

If you need any assistance, you are welcome to join our support group at: IHSS Advocacy Group