11th Annual TACA Family Picnic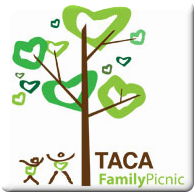 IHSS Advocates will be recognized as a "faith" sponsor at this year's 11th annual TACA family picnic. Stop by our booth to get all your in-home supportive services questions answered, and get details how we can get you started on your path to receiving IHSS benefits.
The TACA Family Picnic provides a fun yet secure environment for children and families affected by autism. This is a vital event that provides the necessary sense of community to families living with autism. This extremely popular family event is traditionally attended by families throughout California and the surrounding states. Last year nearly 1,300 people took part in this amazing day!
This year's picnic will feature:
Gluten-Free Casein-Free Food Court
Classic Carnival Rides: -including Classic Carousel and Ferris Wheel.
Fun Activities including Bounce Houses, Bubble Machines and a Balloon Artists
Access to Rancho Del Rio Stables for pony rides and a petting zoo
Areas for traditional Picnic Games: Softball, Volleyball, Horseshoes, Basketball, Soccer, Ping Pong, Pool Table, Football
Silent Auction and Raffles
Special guests and surprises!
Click here for more information or click here to purchase tickets.Date: Sunday, June 8th, 2014Time: 11:00am to 3:30pmLocation: